Talon & Claw
Regular price
Sale price
$124 USD
Unit price
per
Sale
Sold out
Whether your players are crawling through the Underdark or battling an ancient dragon in its lair, this screen provides you a space to keep your notes and adventures obscured in mystery. Each panel features slats stained to match the screen and tacs to hold them in place. Each siege screen also features black metal hardware to make your players feel like they are in a rustic tavern setting.


Each DM screen is complete with:
•3 panels of solid wood stained (12X18 in. closed, 12X36 in. open)


•Durable black piano hinges


•A latch on the front to close and secure your screen for travel or storage


•Four magnets recessed into the wood on each panel to hold all of your notes for your campaign

•12 dry erase cards used for tracking your players initiative in combat with the initiative slot carved into the top of the screen.

•Black metal hardware
All products ship in 2 weeks.
Share
View full details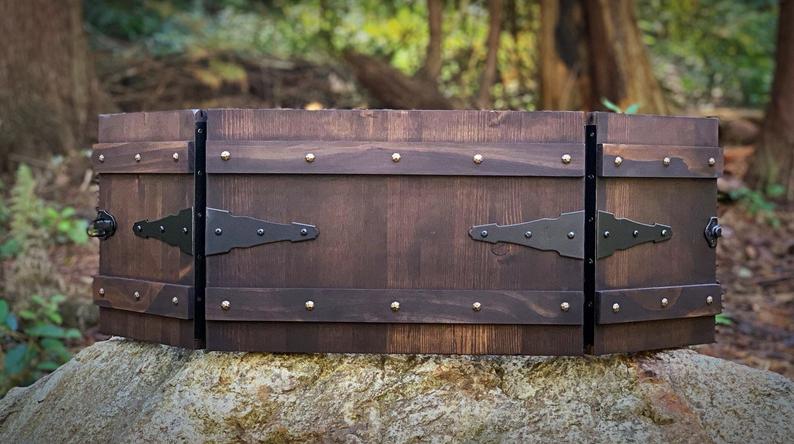 Very Satisfied with my Purchase
This is a wonderful and beautifully crafted product that has already elevated my DMing experience! It allows me to have extra notes without having to dig through them and I can still have the standard DM screen up in front of it for those handy quick references. Having the cards for initiative tracking is so handy as well since it is in plain view for my PCs who can now help remind me or point out if I accidentally skip someone's turn in combat, which I admittedly do more often than I'd like to.
The payment options make it even easier to afford too, and I got it within a couple weeks of ordering. Indulge a little and elevate yours and your players gaming experience!